Guca Brass Band Music Festival
Gucha, a small town in Central Serbia, becomes the world capital of brass bands every August. The traditionally hospitable Gucha has earned its place on the map of world music festivals, inviting high interest from ethno music lovers, and deservedly so. As an internationally recognized trumpet capital, and a singular corner of positive energy, a place with accumulated joy, gaiety and spontaneity, coupled with the piercing yet gentle sound of the trumpet, Gucha is a place of catharsis of the heart and soul while the festival lasts. All this is more than enough to attract visitors to Gucha each Mexico , Spain , Greece , Denmark , China and many other close or distant countries. The names of Boban Markovic, Milan Mladenovic, Ekrem Sajdic, Elvis Ajdinovic, Fejat and Zoran Sejdic have carried the glory of the Serbian trumpet across the world.
Final Serbian trumpet band competition will be held in Guca from 5. VIII 2009 – 09. VIII 2009. Self-taught maestros of south, western, eastern and central Serbia will compete for prestige "golden trumpet" award
.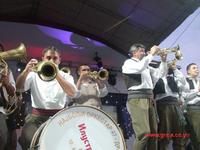 Read more ...
Country : Serbia
Style : Gypsy
Released : 2002
Label : Extraplatte (Sunnymoon)
Size : 39.8 mb
Audio : 160 kbps

Country : Holand
Style : Gypsy
Released : 2007
Label : Synkoop
Size : 71.3 mb
Audio : 160 kbps

Our polling
What music genre you like most?
Tags
Arabian
,
Armik
,
Balkan
,
Balkan Brass
,
Balkans
,
Boban Markovic
,
Bulgaria
,
Electronic
,
Esma Redzepova
,
Ethno
,
Fanfare Ciocarlia
,
Ferus Mustafov
,
Flamenco
,
Folk
,
Gipsy
,
Goran Bregovic
,
Guca
,
Gypsies
,
Gypsy
,
Gypsy Punk
,
Hungary
,
Instrumental
,
Ivo Papasov
,
Jazz
,
Jewish
,
Klezmer
,
Kroke
,
Latin
,
Macedonia
,
Muzica De Colectie
,
Putumayo Presents
,
Romania
,
Rough Guide
,
Saban Bajramovic
,
Serbia
,
Soundtrack
,
Turkey
,
Video
,
World
,
World Music
Show all tags